What's New in ArcGIS GeoBIM (June 2023 Release)
Overview
ArcGIS GeoBIM delivers an innovative, easy-to-use web-based experience for teams to collaborate on building information modeling (BIM) projects and issues in a geospatial context. Architecture, engineering, construction (AEC), and operations teams can make better decisions by securely accessing up-to-date project and asset information, including digital models, documentation, issues, and reality capture.
The June 2023 release adds support for connecting 2D/3D geospatial and BIM data, as well as improvements to app usability and georeferencing performance.
Support for custom base maps and user-specific coordinate systems
Improved georeferencing performance for Autodesk® Revit® and IFC files
Support for Autodesk Revit, AutoCAD®, and Civil 3D® 2024 files and IFC 4×3
Enhanced user experience for projects and apps created in ArcGIS GeoBIM
Improved support for creating and syncing issues with Autodesk Construction Cloud® and BIM 360®
Release Highlights
We've listened to user feedback and have worked to improve the app performance and usability of ArcGIS GeoBIM. Expanded support for custom coordinate systems that work with all features and tools in ArcGIS GeoBIM gives greater choice to users. This release also enhances support for the Autodesk Construction Cloud as a part of our commitment to evolving cloud-connected capabilities between Esri and Autodesk.
Want to help us drive new capabilities in future releases of ArcGIS GeoBIM? Visit the Esri Community and add your ideas for consideration.
New support for custom base maps and user-specific coordinate systems
This release adds the ability for users to select a coordinate system of their choice when creating ArcGIS GeoBIM Projects, along with adding any base map available within their ArcGIS organization. Prior to this release, Web Mercator was the only supported coordinate system that ArcGIS GeoBIM uses to create feature layers, web maps, and issues.
Now, all coordinate systems, including custom ones, are officially supported with all features and tools in ArcGIS GeoBIM. Users will notice an enhanced experience and interface when creating projects as seen below.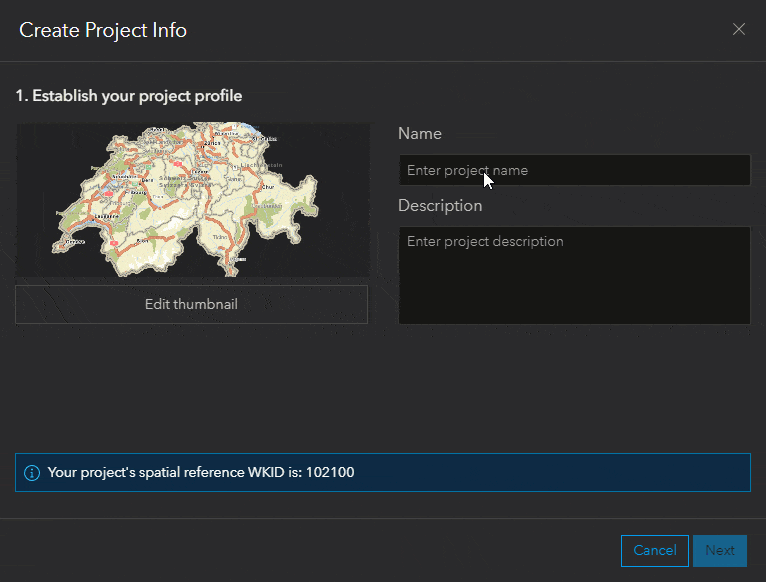 Improved georeferencing performance and support
Support for Autodesk Revit, AutoCAD, and Civil 3D 2024 files
In the spring of 2023, Autodesk released its 2024 versions of Revit, Civil 3D, and AutoCAD software, bringing new features and capabilities to designers and engineers. ArcGIS GeoBIM now supports files created in these 2024 versions of Autodesk products. Files created in previous versions continue to be supported and are processed using the best-matched Autodesk software version.
Improved georeferencing performance for Autodesk Revit files
The geoprocessing service for Autodesk Revit files now processes both Cloud and Cloud Workshared models using the specific Revit version for Autodesk Construction Cloud or BIM 360 projects.
Most Revit files will now take significantly less time to process. Revit files are processed using the best-matched Autodesk software version, minimizing upgrades to Revit files. This release also provides improved performance for users working with large digital models at sizes up to 500GB.
Support for IFC 4×3
For those using the open standard format developed by buildingSMART® International, Industry Foundation Classes (IFC) files in version 4×3 are now supported in ArcGIS GeoBIM and processed to create accurate project boundaries. Before this release, IFC 4×3 files were not able to be processed and presented users with an error message.
Enhanced user experience for projects and apps created in ArcGIS GeoBIM
Both ArcGIS GeoBIM Project Manager and ArcGIS GeoBIM Apps have been enhanced to improve consistency and reliability for users.
This release gives users more control over the fields used to filter Issue Charts, and the reliability of the Slice tool has been improved. Hyperlinks also now appear more consistently across ArcGIS GeoBIM. For example, you can now click on the title of an issue to view its details in the Link Explorer.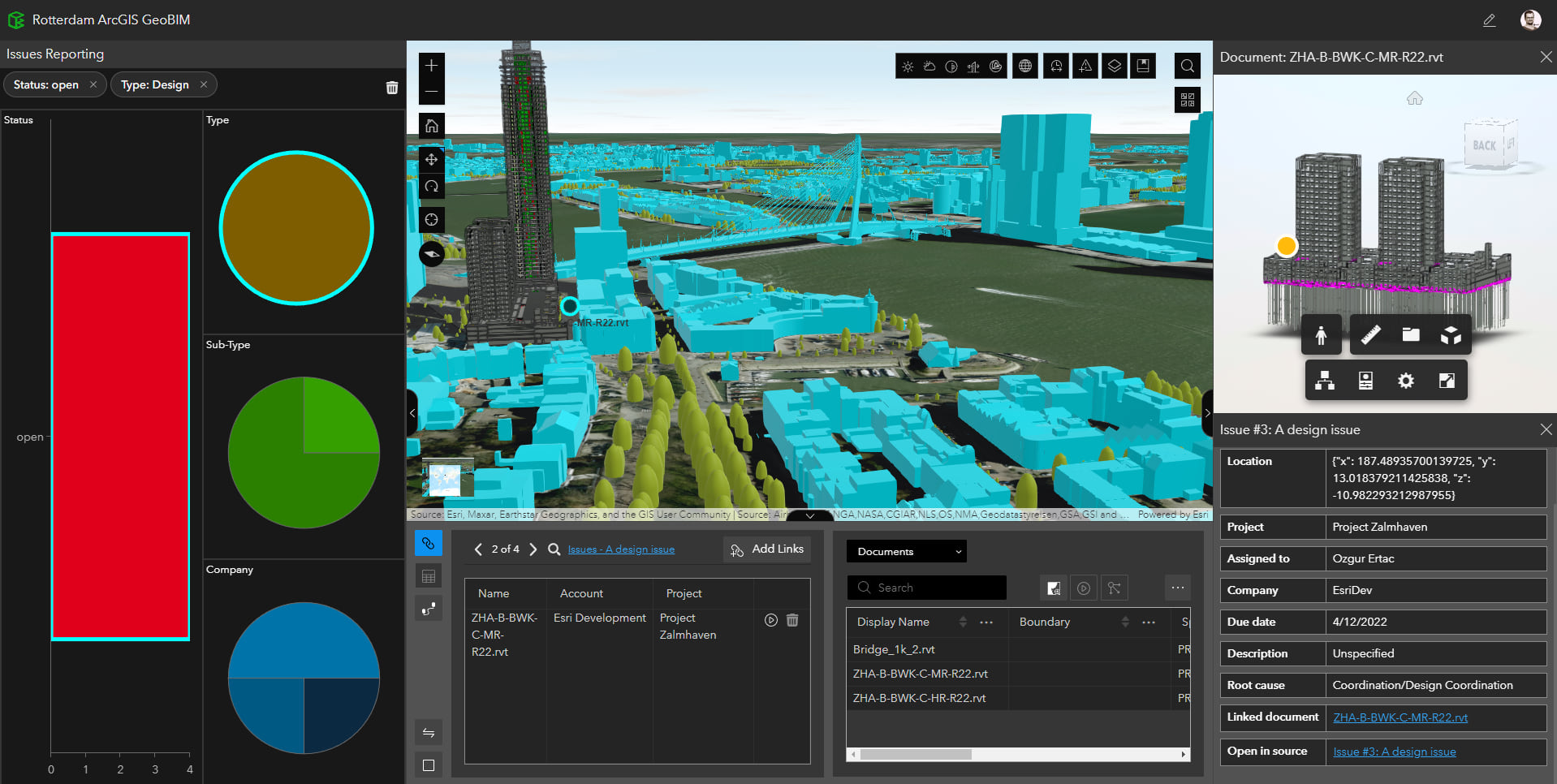 Improved support for creating and syncing issues with Autodesk Construction Cloud and BIM 360
Creating and synchronizing issues with ArcGIS GeoBIM and the Autodesk Construction Cloud has been improved to support push pin locations for issues of any kind.
When creating issues from ArcGIS GeoBIM, issue push pins are created for both Revit and IFC files. Push pin locations for DWG files in the Autodesk Construction Cloud are not fully supported at this time.
When synchronizing issues from the Tools page, issues will generally be within the document boundary with improved accuracy.
Join the Esri Community
Have a question for our GIS and BIM experts? Want to suggest something new in ArcGIS GeoBIM? Join the discussion by posting your questions, feedback, and successes in Esri Community.
Access Additional Resources
Discover tutorials, videos, and articles for ArcGIS GeoBIM
You can learn more about GIS and BIM collaboration in the cloud by visiting the ArcGIS GeoBIM resources page and video playlist. Upcoming webinars and past recordings presented by Esri and Autodesk can be found on the ArcGIS GeoBIM webinars page.
eBook: GIS and BIM Collaboration in the Cloud for AEC
Download the ebook to see how leading AEC firms are connecting GIS and BIM together on projects. You will also see examples of ArcGIS GeoBIM being put to work on infrastructure projects where geospatial context was key.
Acknowledgments: The topographic map was made available by the Federal Office of Topography (Swisstopo), Federal Office for the Environment (FOEN), and the Swiss Parks Network. The web scene data was made with publicly available data by the Dutch national government (Land Registry, the Ministries of Infrastructure and Water Management, the Interior and Kingdom Relations and Economic Affairs and Climate, Rijkswaterstaat, and Geonovum), the City of Rotterdam, and Esri Netherlands. The digital building model data was made available courtesy of the Royal BAM Group (Koninklijke BAM Groep).