NV5 Custom Solutions Helps HySpeed Computing Move Its Business Forward. Faster.
The NV5 Custom Solutions team works with organizations around the world to maximize the value of remotely sensed data and deliver successful projects that support a wide range of critical geospatial objectives. The Custom Solutions team has worked with HySpeed Computing on several groundbreaking remote sensing projects, including the development of the HICO Image Processing System, an innovative web application for on-demand hyperspectral data processing.
The partnership between NV5 and HySpeed has been crucial to the success of the HICO project. "At the time we were developing the HICO Image Processing System, scalable cloud computing solutions for processing and analyzing remotely sensed data were not commonly used nor readily available," explains James Goodman, President/CEO of HySpeed Computing, a recognized leader in the application of remote sensing and cloud computing technologies. "In partnership with NV5 Geospatial Custom Solutions, the project team was able to jointly leverage their expertise in ENVI® and IDL® to develop a scalable, cloud-based solution for processing high-volume, hyperspectral imagery."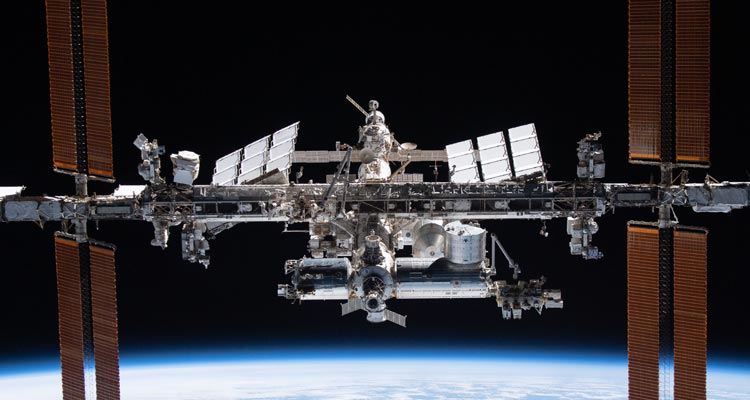 As one aspect of its mission to enable long-term space exploration and benefit life on Earth, the International Space Station serves as a unique orbiting platform for pursuing scientific discovery and technological innovations in remote sensing. (credits: NASA)
This cutting-edge geospatial solution combined HySpeed's custom image processing workflows with the robust image analysis capabilities of ENVI. Funded by the International Space Station (ISS) National Laboratory, this project was awarded the 2019 ISS R&D Conference award for Compelling Results in Earth Science and Remote Sensing, a testament to its groundbreaking status as a pathfinder for next-generation geospatial image processing tools.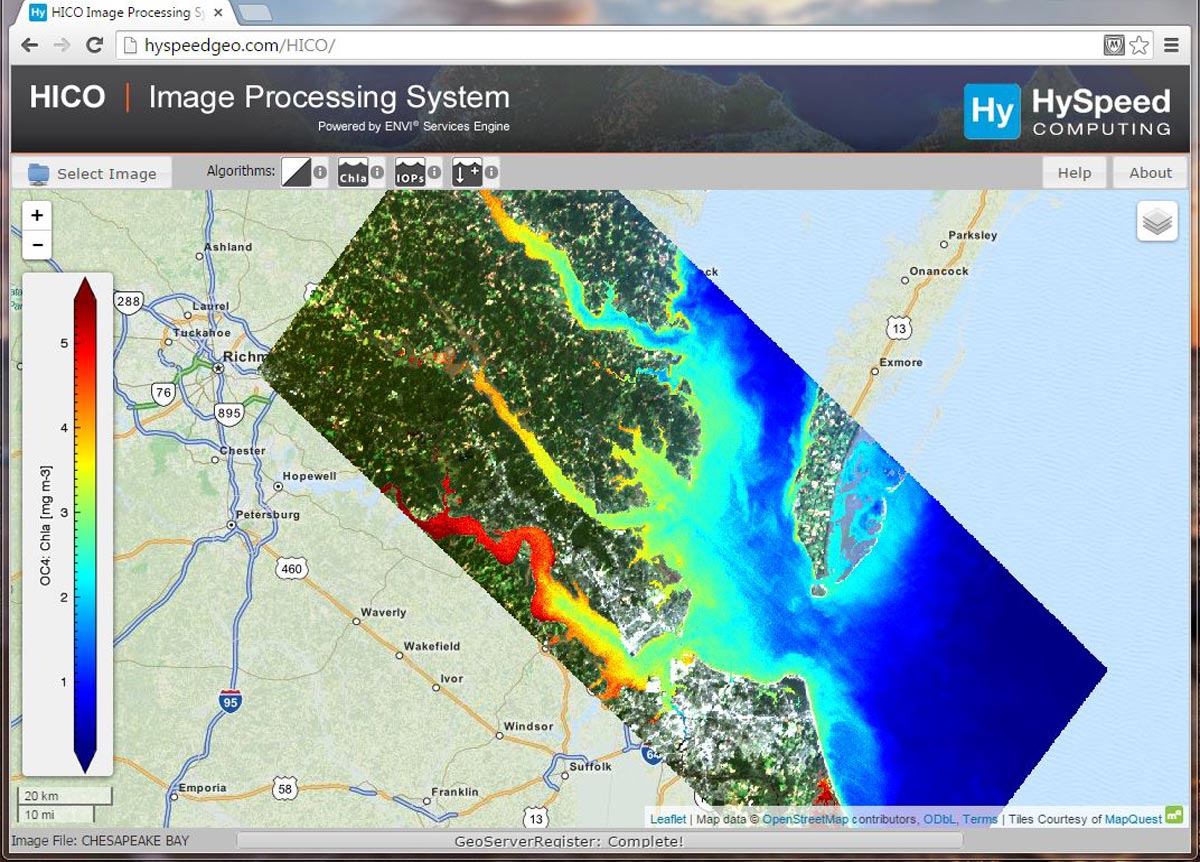 Example output of chlorophyll-a concentration in the Chesapeake Bay derived using the HICO Image Processing System. (credits: HySpeed Computing)
As Goodman recalls, the development of the HICO Image Processing System was a learning process for all involved. It was one of the first projects to utilize ENVI Server, and both HySpeed and NV5 were able to gain valuable insights from the collaboration. "The end result was an innovative web application for on-demand processing of hyperspectral data from the HICO sensor on the International Space Station," says Goodman.
The development and deployment of the HICO Image Processing System have had a profound impact on HySpeed's business and research. This project has allowed HySpeed to efficiently develop automated remote sensing workflows, providing clients with flexible deployment options to suit their needs. Moreover, the relationship between HySpeed and the NV5 Geospatial Custom Solutions team continues to flourish. As Goodman shares, "Our ongoing partnership with NV5 Geospatial has been instrumental in supporting our success, from research to operational applications. We continue to have a strong relationship with the team at NV5 Geospatial, who are always ready to collaborate or lend support on new projects and proposals."
One exciting example of the ongoing collaboration involves the deployment of remote sensing applications on Hewlett Packard Enterprise's Spaceborne Computer-2 (SBC-2) on the ISS. "With the help of the Custom Solutions team, HySpeed was able to successfully implement a fully operational version of ENVI on the ISS for the first time ever," says Goodman.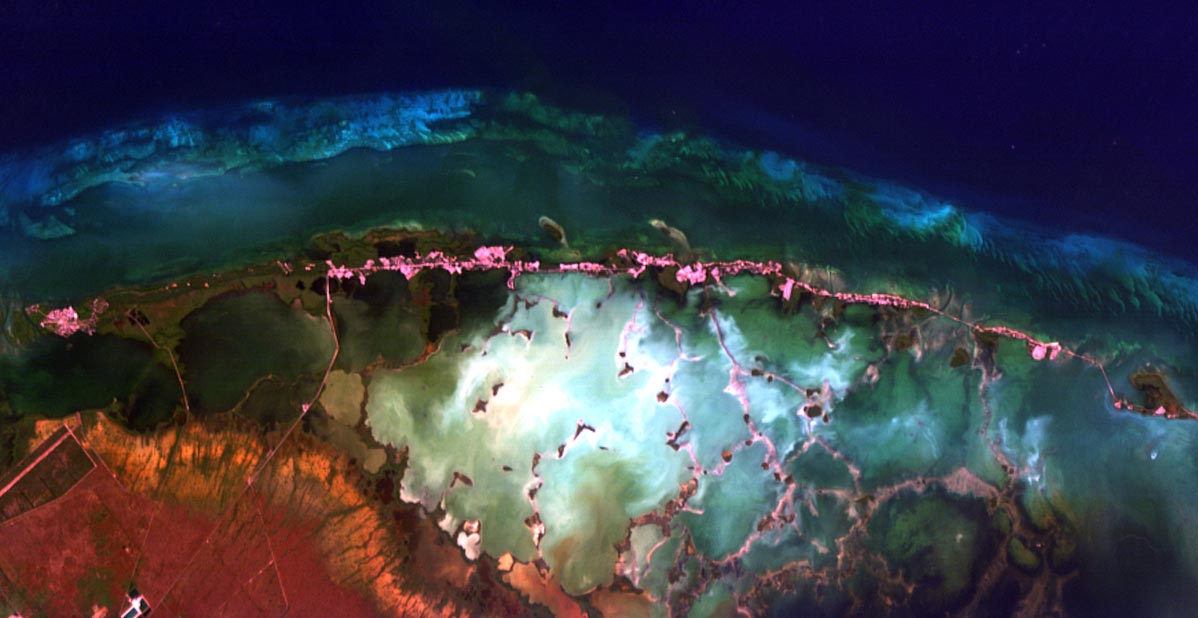 The Florida Keys as seen by the HICO imaging spectrometer on the International Space Station. (credits: HICO, HySpeed Computing)
"ENVI serves as the foundation on which we develop our remote sensing solutions," shares Goodman. "From image analytics in the cloud to automated data analysis workflows to remote sensing algorithm development, ENVI allows us to develop custom solutions that address a myriad of needs, from localized research projects to global environmental challenges."
The ability to customize ENVI has proven to be an invaluable asset to HySpeed's remote sensing needs, contributing to the efficiency and effectiveness of their workflows. One example involved a recent collaboration with the University of the Virgin Islands, where ENVI Modeler was used to develop a custom workflow for monitoring coastal turbidity using high-resolution, multispectral imagery from Planet.
Looking ahead, Goodman anticipates that cloud computing and edge computing will continue to play a significant role in the Earth Observation industry, particularly as high-volume hyperspectral sensors become more prevalent. Goodman is excited for the future, expressing confidence that the partnership with NV5 Geospatial will continue to deliver innovative solutions and make a significant impact in the field. "We expect HySpeed Computing to continue contributing significant solutions in this domain and look forward to the ongoing partnership with the NV5 Custom Solutions team to help these solutions deliver the greatest impact."
In a rapidly evolving industry, the partnership between HySpeed Computing and NV5 Geospatial illustrates the immense value of collaboration and the possibilities that emerge when powerful technology like ENVI is combined with expertise, innovation, and a shared vision for the future.