Innovative Research on Aircraft-Induced Clouds Using ENVI® Software
Amy Tal Rose, PhD candidate at George Mason University
In today's rapidly evolving world of geoscience and remote sensing, innovative minds are pushing the boundaries of what's possible, harnessing cutting-edge technology to address pressing global challenges. One such researcher is Amy Tal Rose whose groundbreaking research is shedding new light on the role of Aircraft-Induced Clouds (AIC), commonly known as contrails, in the global climate crisis.
A Diverse Background Fuels Passion
Currently a PhD candidate in Earth Systems and Geoinformation Science at George Mason University in Fairfax, Virginia, Rose possesses a rich educational background. With a Bachelor of Science degree from the Honors College at the same institution, she majored in Geography, complemented by double minors in Aviation Flight Training and Management and Systems Engineering and Operations Research.
Driven by her passion for foreign languages, travel, and an aptitude for STEM, Rose ventured into the Department of Geography and Geoinformation Science. The world of remote sensing intrigued her, each assignment reminiscent of a puzzle combining art with science. This discipline, she felt, offered myriad applications, from climatology and aerospace to intelligence and defence.
Furthermore, Rose's academic pursuits haven't been her only achievements. From earning both a private pilot license and instrument rating in 2017 and 2018 to representing the U.S. in an international air rally in France, she boasts an impressive resume. Her professional stints range from an Aviation Safety internship at United Airlines in Chicago to teaching roles in institutions like the Smithsonian Institution National Air and Space Museum in Washington D.C.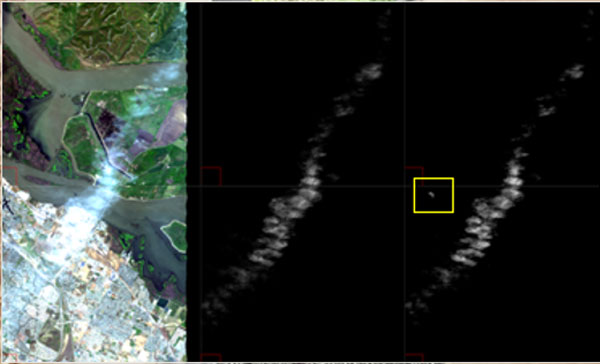 This image shows a false positive in an urban scene.
Bridging the Gap with ENVI Software
ENVI has been a constant for Rose in her research journey. Recounting her experience, Rose said, "I have used ENVI in numerous undergraduate and graduate-level courses as well as in my job at MITRE (The MITRE Corporation). My first assignment was to take a picture with my phone, bring the photo into ENVI, and separate the red, green, and blue colours. I'm now using the same software for my dissertation research, showcasing its unparalleled versatility."
Rose's appreciation for ENVI's capabilities is evident when she talks about hyperspectral data. "I love that I can easily sort through hundreds of bands across multiple images and algorithms. Especially when studying rapidly changing cloud formations, ENVI's advanced hyperspectral capabilities are crucial," she adds.
Unraveling the AIC Mystery
AICs have long been a visible testament to the environmental impact of aeroplanes. Beyond greenhouse gas emissions, these cloud formations disrupt the global energy balance, exacerbating global warming. Originating from soot emissions of jet engines, AICs form under specific atmospheric conditions and can linger for hours, significantly influencing the Earth's temperature.
While scientists have proposed Aircraft-Induced Clouds Abatement Programs (AAP) as a strategy to mitigate AIC formation, the challenge is to accurately identify AICs from open-source images. Current identification methods heavily rely on Convolutional Neural Networks (CNNs), often overlooking the intricacies of remote sensing techniques and atmospheric physics, leading to inaccurate results.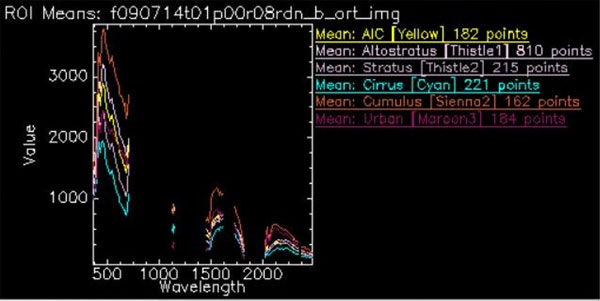 The plot for the regions of interest is created towards isolation of the contrail in the 3rd image. As with the nature of clouds and the inability to bring them into a lab or any truly controlled environment, the signature will be created based on in-scene spectra.
A New Approach with ENVI
Rose's research pivots from the traditional approach and towards establishing a unique hyperspectral signature for AICs using both aerial and ground-based sensors. Using NASA's Airborne Visible/Infrared Imaging Spectrometer (AVIRIS) sensor, Rose procures top-view imagery of AICs. She then delves deep into the data using ENVI software, applying a combination of techniques ranging from atmospheric correction to in-scene spectra development. This process allows her to spectrally distinguish AICs from other cloud formations with high precision.
Taking her research a step further, Rose is currently gathering ground-based hyperspectral imagery of AICs using a Headwall Co-Aligned VNIR-SWIR sensor. This revolutionary bottom-up perspective has never been done before, providing an entirely new vantage point to study these clouds.
Linked results of an isolated contrail in true colour, adaptive coherence estimator, and matched filter, respectively.
Implications and Future Endeavors
Rose's work stands at the forefront of a significant shift in understanding AICs. By successfully distinguishing these clouds from natural formations like cirrus clouds, she's enabling more accurate, data-driven AAPs. This could potentially lead to the aviation industry and regulatory bodies incorporating such strategies into their broader climate action initiatives.
As the field anticipates the launch of new hyperspectral satellites, and with the aviation industry poised for growth, the implications of Rose's research are monumental. Armed with the capabilities of ENVI, including its deep learning capabilities and extensibility with IDL®, Rose's work is set to not only redefine the way we understand AICs but also reshape how the world approaches aviation's role in climate change.
Looking ahead, Rose envisions a future at The MITRE Corporation in Geospatial Intelligence and Aviation Systems Engineering while also nurturing the next generation of thinkers as an adjunct professor at George Mason University. In celebrating the achievements of our academic community, we spotlight Amy Tal Rose, who is leading the charge by using ENVI software to uncover solutions for a sustainable future.