Summer Student Spotlight Uses ENVI® to Monitor Invasive Species
Nisham Thapa, a Research Student at Auburn University
Invasive plant species pose a severe threat to ecosystems by disrupting biodiversity and compromising native habitats. In the Southern United States, two of the most aggressive culprits are the Triadica sebifera, or Tallow tree, and Ligustrum sinense, more commonly known as the Chinese privet.
The increasing availability of high-resolution remote sensing data and advanced technology like ENVI image analysis software offer an innovative approach to tackling this issue. Nisham Thapa, NV5 Geospatial's Summer Student Spotlight, used ENVI to generate detailed distribution maps to monitor and combat Tallow tree and Chinese privet in the coastal regions of Alabama and Mississippi.
Thapa, a student researcher from Auburn University, was born near Shivapuri Nagarjun National Park in Nepal. "The tranquillity away from urban life, fresh breeze from the green lush of the forest, and profound understanding of the importance of education contributed to my choice of Forestry as my major," said Thapa. "During my bachelor's degree studies at Tribhuvan University in Kirtipur, Nepal, I developed a keen interest in the application of remote sensing and Geographic Information System (GIS) in natural resource management, especially for inaccessible terrain."
Thapa completed her master's degree at Auburn University and is continuing her doctoral studies at Auburn using remote sensing data for forest biomass and carbon monitoring in Alabama. Thapa anticipates graduating in December 2025. Her research has been published in the Annals of Forest Research journal.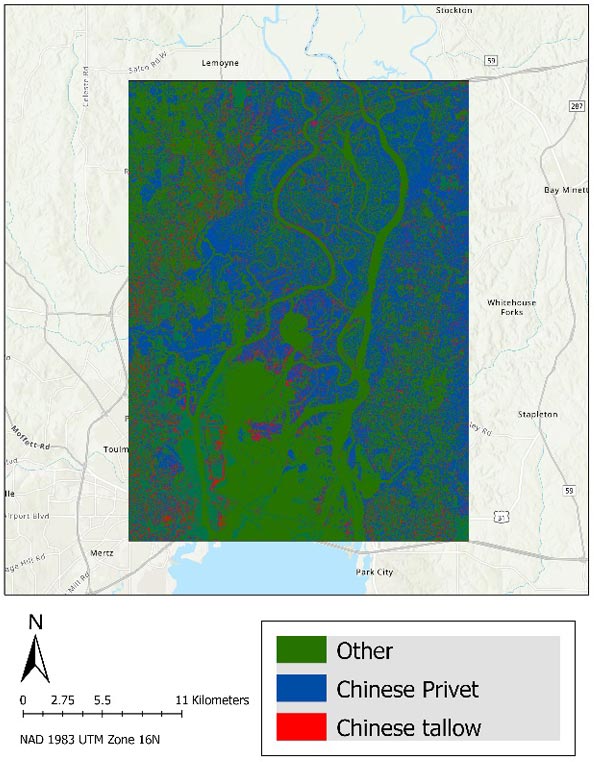 Study Background and Methodology
Thapa's study concentrated on three ecologically important coastal areas: the Mobile Tensaw River Delta, the Bon Secour National Wildlife Refuge, and the Mississippi Sandhill Crane National Wildlife Refuge. These regions have witnessed the establishment of both Tallow Tree and Chinese privet.
Thapa leveraged ENVI to conduct image classification using three distinct methods: ISODATA, Maximum Likelihood (ML), and Random Forest (RF), representing unsupervised, supervised, and machine learning techniques, respectively. The process began with an examination of a 1-meter National Agriculture Imagery Program (NAIP) orthoimage, further refined with vegetation structure and topography parameters derived from LiDAR data.
ENVI was pivotal in interpreting and synthesizing this multilayered data, transforming it into actionable insights for invasive species management. "ENVI has a user-friendly interface and a wide array of processing functions," said Thapa. The software's capabilities include image classification, accuracy assessment, post-classification, user-defined filters, and the stacking of bands and variables derived from remote sensing data according to the user's interest. "In other words," she notes, "it has the potential to combine LiDAR, radar, optical, thermal, multispectral, and hyperspectral imagery."
Key Findings and Implications
The most striking result of this innovative approach was an impressive Overall Accuracy (OA) of 87.5%, achieved using the Random Forest model with NAIP stacked image integrated with LiDAR-derived variables. These findings underscore the immense potential of high-resolution remote sensing data and advanced software like ENVI in accurately characterizing invasive species distributions.
The study resulted in comprehensive baseline inventory maps of Tallow tree and Chinese privet across the selected regions. These spatially comprehensive maps are set to revolutionize how we approach invasive species management, providing an invaluable tool for both immediate and long-term monitoring efforts.
Thapa sees ENVI software as instrumental in a diverse range of applications, including forest management, natural resource management, disaster response, urban growth, and environmental monitoring. "ENVI's geospatially enriched products can be easily visualized and mapped in ArcGIS Pro, making it very versatile." Reflecting on her study of Tallow tree and Chinese privet invasions, she shares, "These features make ENVI a powerful geospatial image analysis tool for effective decision making."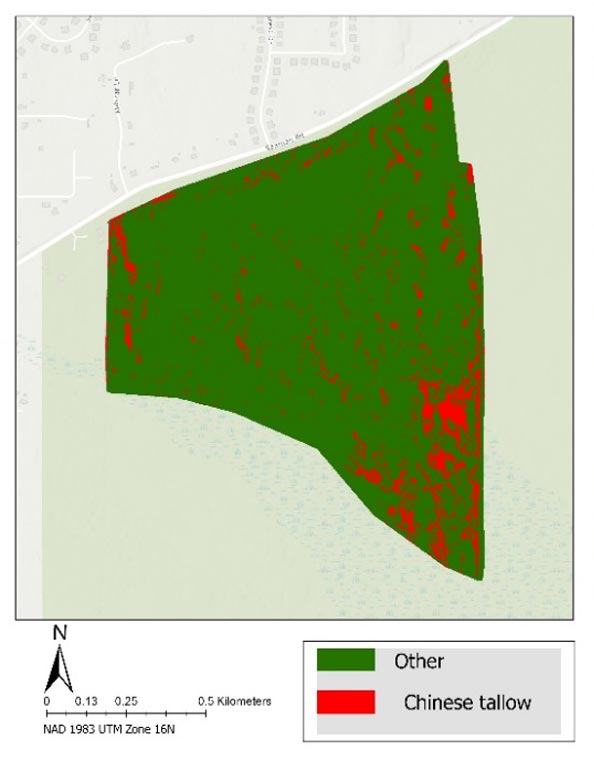 Conclusion
In a world where biodiversity is under threat from aggressive invasive species, it is critical to harness every tool at our disposal to protect our ecosystems. With the aid of ENVI software, Thapa's research makes significant strides toward effectively monitoring and managing invasive plants. The potential of these technological advancements extends beyond the Tallow tree and Chinese privet, promising to inform the development of broader-scale mapping and monitoring frameworks to tackle other invasive species and environmental challenges.