ArcGIS Field Maps is Esri's new premier maps app on iOS and Android devices.
Field Maps will combine the following capabilities into a single app that is easy to use and simple to deploy:
Simple map viewing and markup
High accuracy field data collection and inspection
Battery-optimized location tracking
Work planning and task management
Turn-by-turn navigation
Field Maps will include a new web app, integrated with ArcGIS, that can be used to configure and deploy maps optimized for your mobile workforce needs, create and assign tasks to mobile workers, and create and share views of worker locations.
The capabilities of ArcGIS Field Maps are not new and are currently implemented across separate field apps: Collector, Explorer, Navigator, Tracker, and Workforce. Working with multiple apps can pose several challenges to the mobile worker because it requires them to:
Figure out which apps they need to use to satisfy their workflow requirements
Download and sign in to each app individually
Download multiple copies of map data to work offline
Switch between multiple apps to complete workflows
Because of these reasons, we are bringing together the capabilities of these five apps into a single app.
ArcGIS Field Maps may be the only app your mobile workforce needs to complete their map-centric workflows. They will be able to collect data, mark up maps, capture location tracks, complete assignments, and navigate to assets all from one app.
This saves time for the mobile worker, because they will only have to download, sign in to, and work with one app – and it saves time for you, because you will only have to configure maps for one application.
ArcGIS Field Maps saves space on your mobile devices by eliminating the need to duplicate data, such as base maps, across multiple apps. It also creates a tighter synchronization between the office and the field by only requiring one web app/mobile app pair.
We'll be releasing ArcGIS Field Maps in three phases.
Phase I – Esri's premier maps app for mobile devices
In the first phase, you'll be able to use the Field Maps mobile app to explore the maps you make in ArcGIS, collect and update your authoritative data, and track where you've gone, all within a single location-aware app.
We'll introduce the new Field Maps web app so that you can streamline the map configuration process in ArcGIS Online and ArcGIS Enterprise for your field deployments. This includes a single location to configure the maps you own:
Manage the offline mapping and data synchronization capabilities of your maps
Configure the properties of individual map layers
Create and modify feature templates along with their default values
Author new smart forms for advanced form editing capabilities
Preview and share maps before deploying them to your mobile workforce
Starting with all of the current data collection capabilities found in Collector, ArcGIS Field Maps will include the map viewing and markup capabilities of Explorer, and the location tracking capabilities found in Tracker.
Coming into the ArcGIS platform, starting with this release, is the ability to create powerful new smart forms using the Field Maps web app. Mobile workers can then use these forms in the mobile app to collect data and perform inspections in the field. These new smart forms will be stored within the maps you author so that as we build more editing capabilities across the platform, smart forms will appear in web and desktop apps as well.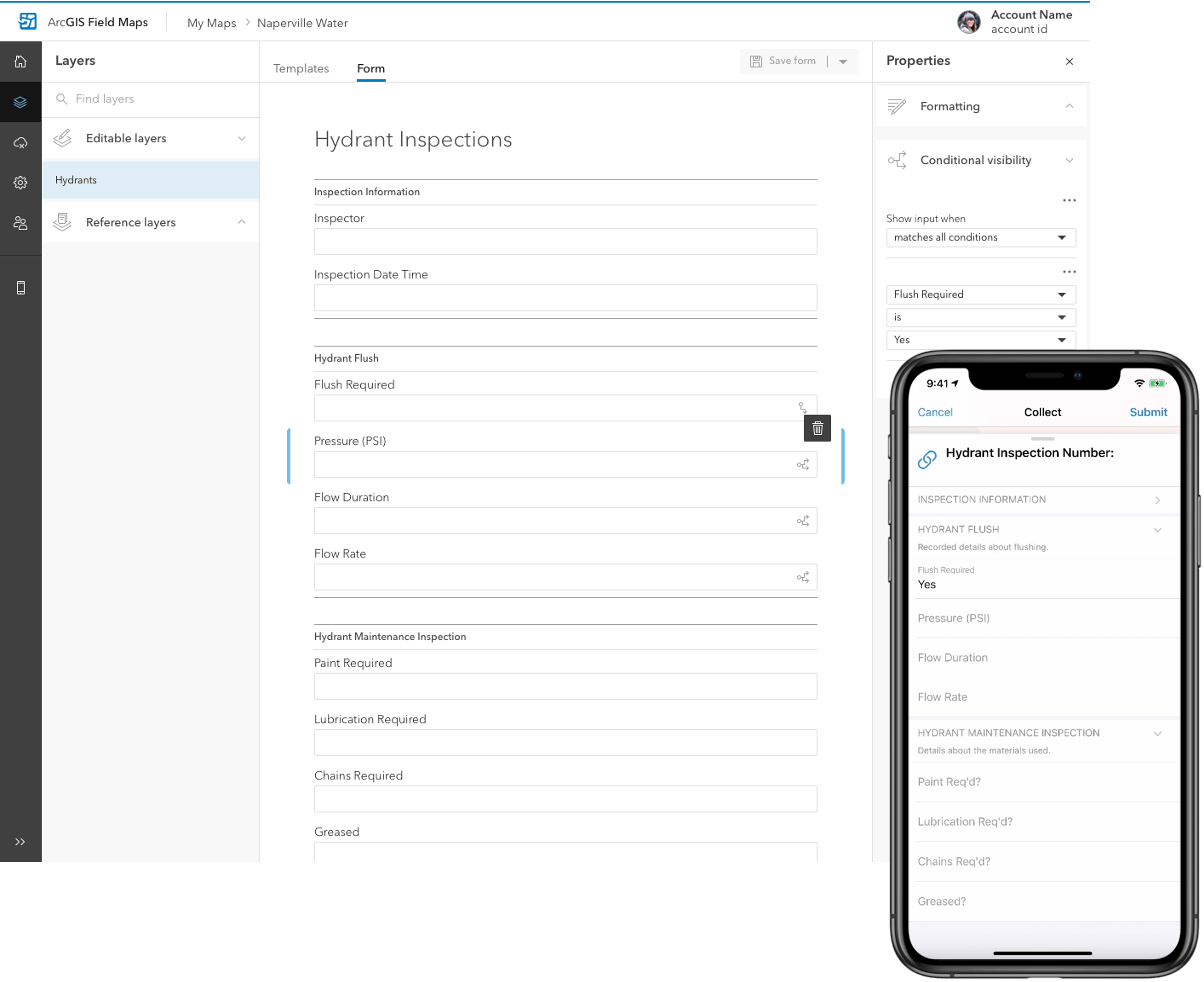 The first set of smart form capabilities will include:
Groups – a new form concept where you can sort and organize fields into a group that has a name and description. Groups collapse and expand, disclosing only the information you need to see.
Conditional visibility – apply logical expressions to fields so that you only see the information that needs to be filled out.
Required fields – specify whether or not the mobile worker must add a value to a field before submitting edits.
Using the Field Maps web app, you'll have an intuitive drag and drop experience for designing smart forms – one that includes the ability to preview the form before you deploy the map
Click the link to continue reading: Covid19: Introducing ArcGIS Field Maps
This article is re-posted with permission from Esri